If buying full spectrum LEDs, get one with adjustable output spectrum settings.
If you are opting for high powered LEDs, always make sure that they have proper cooling systems (heat sink & fans on the circuit board).
Again for higher power systems, ensure that the circuit board is MCPCB (metal core printed circuit board).
Look for LED fixtures that have a constant current driver circuit to ensure proper supply of direct current at all times.
Why are LEDs a good choice to grow Marijuana and Cannabis?
Getting a plant to grow indoors is a full-time task. You are supposed to provide the best possible form of light with the highest possible intensity. LEDs, if compared to any other artificial light source, are the only form of light that one can rely on in terms of intensity.
Including all other benefits of LEDs, there are a variety of features these lights have that can make them the best choice for plant's growth. No matter how much of these you use, the energy consumption of these lights will be far lower than any other source of light you will use to grow the plants. The plus point here is the average billing that comes without having you to compromise on the intensity of light at all.
LED lights usually last longer than any other light source and are usually priced reasonably. All of this combined with the fact that these LEDs can provide instant bright light to your plants makes them an event better plant growing source. Other features including the idea of these lights being environment friendly, incapable of producing harmful UVs, and their strong build are enough to regard these lights as the best choice to help your plants grow.
Features & Benefits Of LED Grow Lights
From professional gardeners to beginners, you can get huge benefits from a grow light.
You can use a grow light during all the stages of the plantation (seeding, veg, flower, and fruits). So, gardeners can use it for single or multiple purposes of the plantation.
If  you see yellowish leaves and long branches, it might be suffering from low light problems. You can use an individual grow light on that pot or for the entire garden.
During the winter a grow light can help your entire garden keep alive.
A grow light allows you to start a garden in remote places where sunlight is very rare. You can even grow a plant in the basement with these lights.
It helps to keep the plants healthy and free from diseases. All the fertilizers, water, temperature also matter for having a disease-free garden.
A grow light can increase the production of flower, fruits, and the seed of your garden. So, every harvest time you will get the most yielding.
Grow lights or quantum board led grow light are flexible in design and technology. You can use them as a multi-layer vertical system, ceiling lights or inter-lighting designs between plants. This type of illumination systems are used in greenhouses and large indoor gardening. LED lights suits best with this kind of typical lighting system.
Another benefit of LED lights is that they are the less heat and more lighting performance. LED grow lights emit less heat than other lighting methods. Too much heat is damaging to the plants, decreases the growth and might cause the death of the plants. LED lights have greater efficiency on low heat production and bright illumination.
Unlike the sunlight, it won't evaporate the water from the soil. So you don't need to water plants so much in a day.
Best Recommends FOR you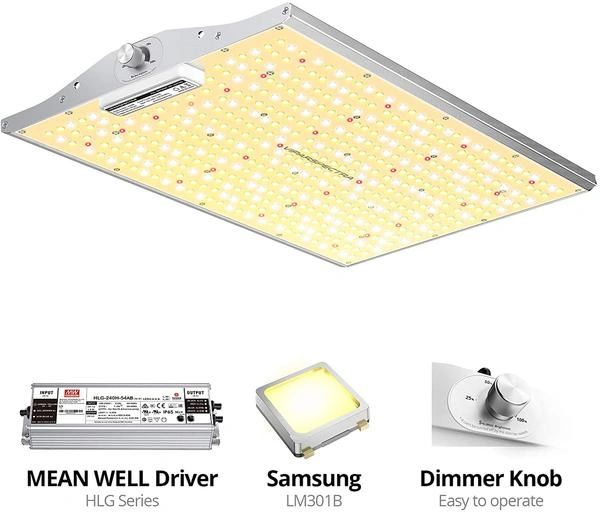 HIGH EFFICIENCY & HIGHER QUALITY YIELDS: VIPARSPECTRA XS4000 LED grow light adopts the latest high-quality LEDs technology-Samsung LM301B diodes, high energy efficiency with 2.7 umol/J, generates more usable lighting per watt and provides better light canopy penetration.
OPTIMAL FULL SPECTRUM & FLEXIBLE DIMMIER: Consists of 3000K warm white, 5000K white, 660nm deep red, and 730nm IR light, which providing your plants with excellent full spectrum led grow lights. The red and IR light are particularly useful during bloom, which can speed up bloom time and enhance high yields to obtain the ideal harvest. An added dimmer knob is featured to manipulate the light intensity at liberty, provides desired needs for plants in all stages from veg to bloom.
SILENT OPERATION & SOLID CONSTRUCTION: No fans zero noise. Large areas of solid aluminum heat sinks help you to achieve the ideal cooling system. Adopts high safety performance MEAN WELL HLG series driver to achieve high PAR output, longer lifespan to speed up plant's grow processes and boost yields while saving you on your energy bill.
WORRY-FREE WARRANTY & FRIENDLY SERVICE: We provide 36-Month US Local warranty and 30-day money-back guarantee. Professional guidance, friendly customer service and US local after-sales service provides you with a pleasant shopping experience and helps your plants grow better. Make sure you purchase authentic VIPARSPECTRA grow lights. If you have any questions, please contact us at any time.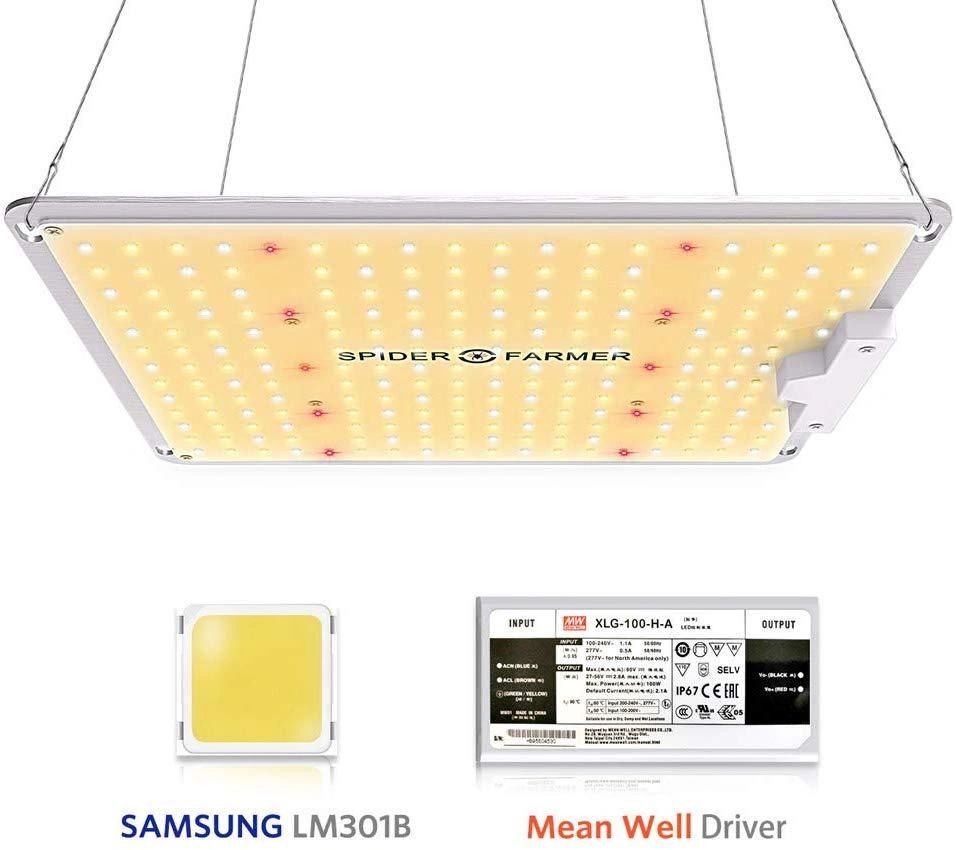 LOWER RUNNING COSTS & HIGHER-QUALITY YIELDS: SF LED Grow Lights utilize the latest in high yielding LEDs technology today-Samsung LM301B diodes, high Energy Efficiency with 2.9 umol/J, delivers powerful light output and uniform canopy penetration to resulting maximum higher yields. Only consumes 100w, running 50% less power than the HPS or other SMD LEDs or Blurple lamps. Veg footprint is 3 x 3 ft, Flowering footprint is 2 x 2 ft.
CUSTOMIZED DIMMING DESIGN: Upgraded SF series growing lights have a dimming knob and light switch. A single light can be adjusted the light intensity at liberty. Multi-light Connection with unified dimming especially beneficial for large area of indoor growing and commercial planting.
IDEAL FOR ALL GROWTH STAGES: Excellent full spectrum- white, blue, red and IR (3000K, 5000K, 660nm and IR 760nm). 3000K providing more reddish light and the 5000K providing more blueish. The 660nm red and IR light is especially useful during bloom, where it speeds up flowering time and boost yields. Uniformly across the surface and deep into the roots and bottom of canopy for consistent, highest quality flowers.
WELL MADE & SOLID CONSTRUCTION: No Fan Noise Free. High Efficient and reliable MEAN WELL Driver. Aluminum heat sink is thick and sturdy, protective covers for cables; User-Friendly Packaging. Quality components mean the light lasts longer, SF Light takes good cares of you with more considerate design, you can easily save money without purchasing lights frequently.
VALUE FOR THE MONEY: SF LED Plant Lights are often copied but will never have our quality or commitment, we provides 3 years of after-service of local maintenance center(US/CA/UK/DE). Make sure you purchase authentic SF grow lights, really can give you need from a high-quality grow lights – at a price that is affordable. For any questions, feel free to e-mail us and we will help you resolve it. Quality backed by our ironclad!!!
Final thoughts
With an overwhelming amount of LED grow lights on the market today, it can be difficult to identify which ones are good vs junk. It's no secret that LED grow light technology is rapidly advancing. Some of the best LED grow lights released last year are no longer relevant this year. So what is the best LED grow light 2020? may be above my recommends can be your good choices, also a best brand: eco farm grow light!