You may want to check out the best rosin press machine review before you buy one. Each rosin press, regardless of the type, can be assessed by the pressure it exerts, the quantity it squishes, and the temperature range it has.
However, aside from these basic requirements, you may want to invest in a quality machine that will last for years to come.
Here are some of the things you need to consider:
Quality
When I say quality, I do not just mean the quality of the press itself but also the quality of the concentrate it will produce.
The heat is directly responsible for quality maintenance. Too much heat can result in sub-par rosin that is almost burnt.
One way to control is with high pressure that yields more even at low temperatures.
Pressure
Most people think the higher the pressure, the more yield the press would produce. On the contrary, extreme pressure may infiltrate the rosin with unwanted plant material.
The pressure should be high, but just high enough for the amount you are pressing.
Size
Size is another important consideration when choosing a rosin press machine, especially if you are going to use it at home.
For a commercial setting, you normally would not care if it is too big or heavy.
However, for domestic extraction size has to be manageable and portable enough.
Noise
If you want a rosin press that does not make significant sound, you should not go for a pneumatic rosin press.
These use concentrated air for exerting pressure and can be fairly noisy. The electric ones would be the quietest among all.
Type
Choosing the type of rosin press is directly going to affect your use, the yield, and most importantly, the price.
If you do not mind some manual labor, a manual rosin press would be best.
If you plan on using it for producing multiple batches at a time, go for the pneumatic or electric one.
Control
Some rosin press models have advanced features that allow you to control temperature and pressure, to achieve different consistencies in rosin.
This depends on what your production goal is. If you like experimenting, I would recommend buying the best electric rosin press with digital control of time, temperature, and pressure.
Warranty
These machines cost anywhere from a few hundred dollars to a few thousand dollars depending on the type and size of the press.
Most brands do offer long warranties. However, you should read in detail as to what parts the warranty is valid for and how long.
Best Small and Cheap Rosin Press Machine Under $500 Recommend for you
The NugSmasher Rosin Extraction System – Mini Smasher Version featuring 2 Tons of pressure and 2.5 inch pressing plates. It is ideally suited for pressing around 3.5 grams of material or less. Easy to use and suitable for family used. You can easily extract by yourself.
Made out of Solid Steel
Heats up fast
Large 2.5″ Smash Plates
Dual Heating Elements (70W ea)
Accurate Temperature Control
Circuit Protection
Fast Retract Plate Release
Manual Pump Arm
Made in America
Guaranteed for Life
Dabpress 6 Ton Rosin Press Machine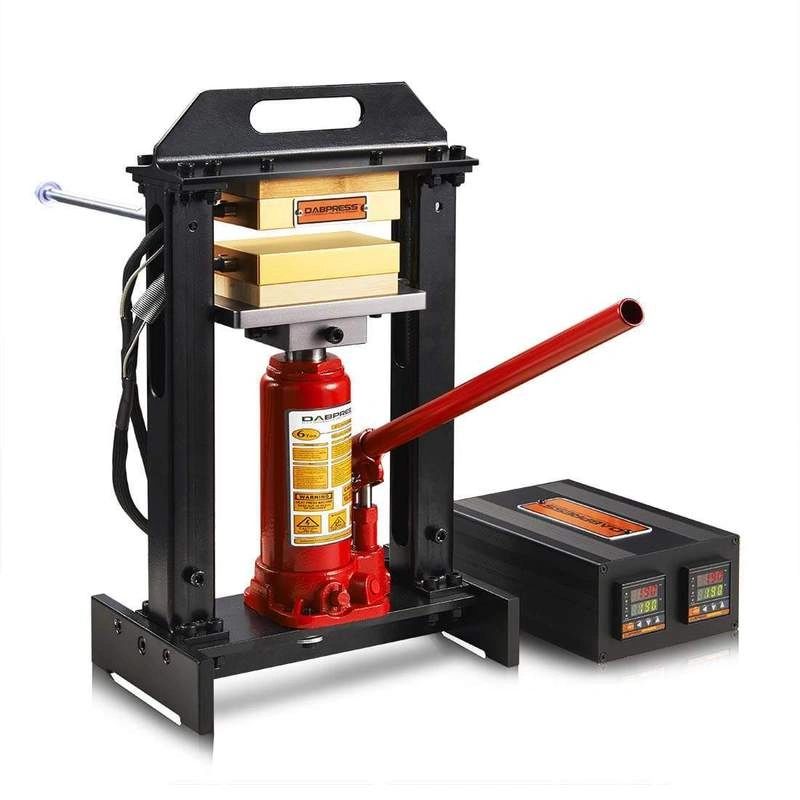 Long Working Life Guaranteed – Durable frame made of H-shaped steel paired with a 6-ton bottle jack, spring installed into the steel frame away from the working area; easy to replace; Heating rods are up to 6,000 working lifetime.
Accurate Temp Detected – Anodized working surface ensures the best flavor and easy cleanup; Independent Heating rods & thermocouple guarantee an accurate temperature is delivered & detected.
Ideal Pressure for 3.5-14g Materials – 6-ton (12000 lbs total force) hydraulic bottle jack to deliver optimal pressure for non-solvent extraction; 2×3″, 2×4″,2.5×4.5″ are the recommended size filters for use.
Heat Insulation Performance – Low heat transfer bamboo insulator guarantees quick heating-up and protects the bottle jack from overheating.
Easily Rebuild into New Press – Platens and temp control box can be easily removed from the unit then moved to the hydraulic shop press to rebuild a new rosin press.
ECO Farm HP02 8-Ton Hydraulic Heat Rosin Press Machine
Lightweight But Powerful & Sturdy. Maximum Pressing Force Up To 8 Ton. 14000 psi Ram Hydraulic Jack Ensures Successful Pressing at Relatively Low Temperature.
5″ x 2.5″ Dual Heating Plates with Touchscreen Temperature Control & Press Timer. Fahrenheit and Celsius Temperature Scale Options
Easy to Operate. No Extra Equipment Required. Save Energy by Automatic Sleep/Wake Modes.
Ergonomic Handle Design Allows You to Move the Press Conveniently.
Suitable for many kinds of flated material, special for oil extraction.
Digital timer & temp controller – Preset desired time and an audible alarm will sound when time is complete.
Set the desired temperature (in Fahrenheit) and element will stop heating when preset temperature is reached.
Heating elements -Thicker heating plate with more even temp than other suppliers
Strong metal structure – Machine is heavy-duty, commercial-grade, super stable and built.
Final thoughts
When buying a rosin press, cheap is not generally the best way to go. That said, there are a few great low-cost presses on the market. None is better than the NugSmasher Mini.
The Dabpress 6 Ton Rosin Press Machine is another good option. It is quite a bit cheaper, but it also sacrifices a lot in terms of performance. What's more, a best brand you can trust: ECO Farm HP02 8-Ton Hydraulic Heat Rosin Press Machine
it can be your good choice also!